Creative T4 wireless
Features
Indulge your senses
A major part of getting the best sensory experience out of your entertainment lies in the quality of your audio. The Creative T4 Wireless is specially engineered and designed to meet - and perhaps even go beyond - all your entertainment audio needs.
For the movie buff
Feel the excitement and action of your movies as you immerse yourself in the realistic audio playback of the movie, and without compromising on the clarity of the dialog.
For the avid gamer
Get into the thick of action in your games with heart-thumping bass and audio clarity.
For the music lover
Enjoy audiophile quality music as you listen to your favorite tracks, immersed in impeccable audio with full-bodied midrange, clear highs and deep, tight bass.
Quality wireless audio
The Creative T4 Wireless is equipped with aptX® and AAC high-definition codecs, giving you high-resolution wireless Bluetooth® audio that sounds as good as audio from a wired connection.
Awesome mids and highs
The audiophile-grade aluminium driver in each satellite delivers full midrange and ultra-clear highs, giving you clear, crisp audio.
Deep, tight bass
The powerful yet compact Creative SLAM™ (Symmetrically Loaded Acoustic Module) subwoofer is professionally engineered and tuned to perfection to bring you realistic heart-thumping bass for a completely engaging gaming or movie experience.
Freedom without compromise
Bluetooth wireless connectivity gives you the freedom and convenience to move around your room with your smart device as you're not tied down by any wires.1 And with aptX, you're assured of uncompromised audio quality.
Just tap and pair
With the NFC (Near Field Communication) receptor on the Audio Control Pod, you can simply tap your NFC-enabled device on it to pair and then you're all set to stream and enjoy your music.
Stay connected
Connect with multiple Bluetooth devices! With Creative Multipoint, you can have two Bluetooth stereo devices paired to the speakers at any one time and easily toggle between them.
Even more connectivity options
The Creative T4 Wireless comes with an optical input for digital signals, so you can directly send audio from sources such as your HD TV or sound cards without loss of resolution. It also has RCA analog inputs for connection to your video console or DVD player, as well as a 3.5mm input for connection to smart devices and portable media players.
Switch to private listening
For late-night gaming or movie-watching, there's no need to worry about waking up the household. The Creative T4 Wireless' Audio Control Pod is integrated with a dedicated headphone jack so that you can conveniently plug in your headphones when the need arises.
Press, tap and turn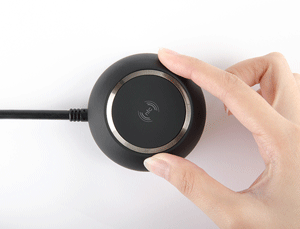 Fortunately, these aren't dance steps but what you can do with the speakers' multi-functional Audio Control Pod!
Press the Source button to toggle instantly between the Aux-in and optical inputs. Tap your NFC-enabled device on it for easy one-touch pairing. And finally, turn the Audio Control Pod itself to make volume adjustments.
Get the bass you want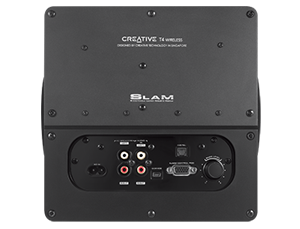 Increase or reduce the desired bass level by simply using the adjustment knob located on the subwoofer.
Infrared Remote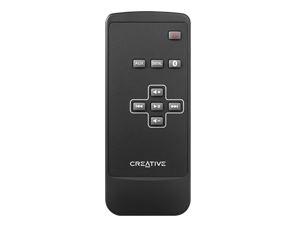 The IR Remote lets you take control of your speakers without you having to leave the couch! You can perform source selection (Bluetooth, Aux-in and optical), turn the speaker on or off, adjust the volume and even control music playback.